Upcoming Events:

IANANO is pleased to sponsor the EV Forum 2015 to celebrate the Earth Day on April 22, 2015. The event to highlight the application of nanomaterials in developing advanced battery technologies to enable electric vehicles and hydrogen fuel cell vehicles to replace internal combustion engine cars on the road to reduce carbon emission, making the environment clean and healthy for the community at large.
For more information, please visit the website of our partner, Cleantech Institute: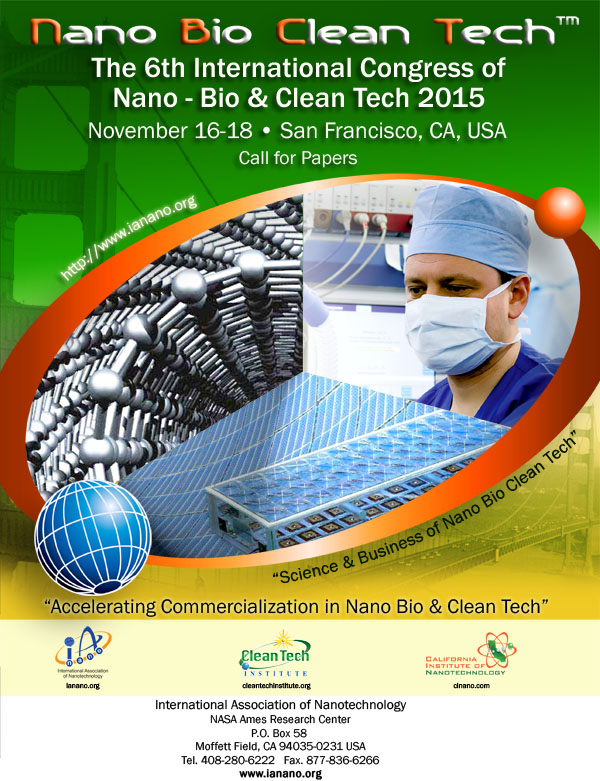 Preliminary Announcement
International Association of Nanotechnology is pleased to sponsor the upcoming International Congress of Nano Bio Cleantech 2015, which is a premier international gathering of researchers, scientists, and business executives interested in the frontier of the technical and business development in the converging of Nanotechnology, Biotech and Cleantech industry.
TOPICS:
Nanomaterials
Nanoparticles
Carbon Nanotubes
Nanodevices
Nanoelectronics
Nanofabrication
MEMS & NEMS
Nanobiotechnology
Nano scale characterization
Standards & Nomenclature
Nano Tools
Molecular Engineering
Nano Manufacturing
Nanoparticles Toxicology
Heath Safety Implications
Renewable Energy
Biofuels
Thin Film Photovoltaic
Hydrogen Fuel Cells
Nano-composite for Electric Car
Electric Vehicle Technology
Advanced Nano Battery Technology
Ultra-Capacitors
Nanostructured Systems
Sustainable Energy Public Policy
Intellectual Property
Commercialization
Venture capital investment
Other related topics
To download a Call for Abstract flyer.
To submit an abstract, please visit the Speaker Corner, where you can submit an abstract online. The due date for abstract submission is June 15, 2015.
--------
Past Events

Our President Lloyd L. Tran gives a keynote lecture at the NanoTek 2013 on December 2, 1013 in Las Vegas
PAST INTERNATIONAL CONGRESS OF NANOTECHNOLOGY
2009
International Congress of Nanobiotechbiology & Nanomedicine 2009
Download the NanoBio 2009 Program Book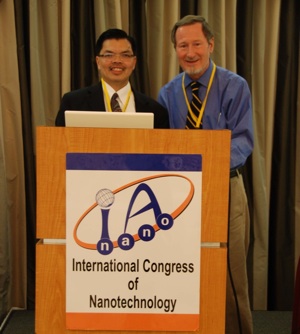 (Chairrman Lloyd Tran was introducing Nobel Laureate Prof. Douglas Osheroff at Nano Bio 2009)
2008
International Congress of Nano Bio Clean Tech 2008
(download the ICNBC 2008 program booklet)
2007
International Congress of Nano Bio Clean Tech 2007
(download the ICNT 2007 program booklet)
International Congress of Nanobiotechnology & Nanomedicine 2007
(download the NanoBio 2007 program booklet)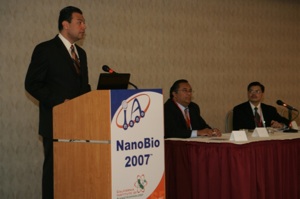 (Chairman Lloyd Tran with Senator Alex Padilla and Senator Richard Polanco at the NanoBio2007 in San Francisco)
2006
International Congress of Nanotechnology 2006
(download the ICNT 2006 program booklet)
International Congress of Nanobiotechnology & Nanomedicine 2006
(download the NanoBio 2006 program booklet)
2005
International Congress of Nanotechnology 2005
(download the ICNT-2005 program booklet)
2004
International Congress of Nanotechnology 2004
(download the ICNT-2004 program booklet)